Women, Infants
& Children
Due to the Coronavirus Pandemic, WIC is operating safely by phone service.
Please call our office at (530) 527-8791 to enroll or certify, obtain future food benefits, reschedule, get breastfeeding support, or get questions answered.
Check your California WIC app for benefits and appointment status
About Us
The Women, Infants and Children (WIC) Program is a USDA funded nutrition program to help families have access to healthy foods. The program serves pregnant women and families with children up to age 5. WIC provides nutrition education, monthly benefits for healthy food, breastfeeding support, and referrals to healthcare and other community resources.
This institution is an equal opportunity provider. USDA Nondiscrimination Statement.
General Information
Good nutrition aids in healthy brain development, growth, and builds a strong immune system. WIC isn't just for mothers! Fathers, legal guardians, migrant workers, and foster parents are all eligible to apply for WIC if they have a child under age 5. WIC also works with local grocers who are authorized WIC vendors to make sure they have the proper foods available for WIC participants. In addition to regular stores our Red Bluff Farmers Market is also an authorized vendor and WIC participants may be eligible to shop at the weekly summer farmers market! Here in Tehama County all of our WIC Nutrition Assistants are bilingual in English & Spanish and are also Certified Lactation Educators, we can assist anyone with breastfeeding questions. There are 2 Registered Dietitians on staff as well to help those with additional nutritional needs.
WIC is available to anyone who lives in California and meets the program guidelines regardless of race, color, national origin, gender, religion, age, or disability. We welcome the newly pregnant, military families, migrant families, fathers, foster parents, and legal guardians with eligible children.
Contact our office today to see if you are eligible to receive these services. Eligibility is based on income and household size, click here to see the current income guidelines.
Services Offered
You may qualify for services if you are pregnant, breastfeeding, just had a baby, or have a child under age five. Other qualifying factors apply such as meeting low or medium income (see below guidelines) and or receiving Medi-Cal, CalWORKS, or CalFresh benefits. Qualifiers must live in the state of California.
Newly pregnant women, migrant workers, military, and working families are encouraged to apply!
WIC welcomes partners, grandparents, foster parents, and guardians who care for eligible children.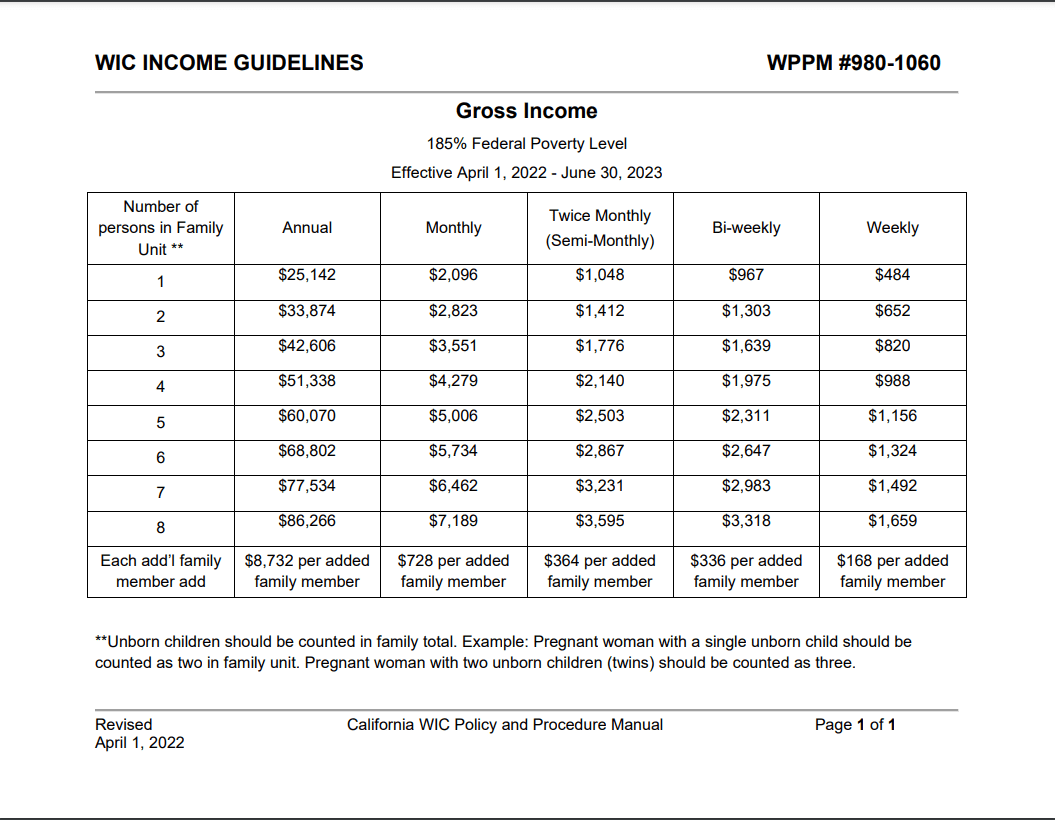 Infant Formula Information
For the most current formula availability from CDPH WIC click here.
As of August 1, 2022, the standard contract WIC formulas changed for WIC participants.
The standard contract formulas for CDPH/WIC currently include:
Milk-Based Formulas:
Similac Advance
Similac Sensitive
Similac Total Comfort
Soy-Based Formulas:
Enfamil ProSobee (no change)
Baby Formula Shortage: What You Need to Know
There has been a growing baby formula shortage over the past few months. On your last shopping trip, you may have thought, "Why are the formula shelves empty?" Due to the recent Abbot Nutrition recall on a few of their formulas there has been a national shortage of all major formula brands. We know that parents and caretakers want the best for their babies.
• WIC has temporarily added more container sizes and types of powdered formula to help you find formula for your baby during this shortage.
• Call the store directly and ask if the formula you need is available or when they will get some.
• In an effort to provide baby formula to shoppers, some stores are now limiting the amount of formula that can be purchased per shopping trip.
• Is homemade baby formula safe? No, it is important for your baby's health to stick with products that meet federal standards that ensure formula is safe and free of harmful bacteria. The American Academy of Pediatrics strongly warns against homemade infant formulas.
• Do not dilute baby formula. It is strongly advised not to water down infant formula to make it last longer. While it might seem harmless, watered-down formula can lead to infant water intoxication. Some signs of water intoxication include nausea, vomiting, irregular breathing, and weakness. Adding extra water will also diminish the nutritional value of the formula. Find more information on proper infant formula preparation here.
• If you cannot find formula at the store due to the shortage, get the most up-to-date information at MyFamily.WIC.ca.gov.
• For questions or assistance with breastfeeding, call (530) 527-8791
• For more resources to find baby formula (Spanish/English), visit bit.ly/HHS-Baby-Formula